Ecobio detergents in harmony with nature
Lavanderina eco-bio detergents are natural and ecological, completely plant-based, rich in organic extracts and contained in recycled plastic.
Natural, ecological and biodegradable detergents with exclusive highly vegetable technology, sustainable from all points of view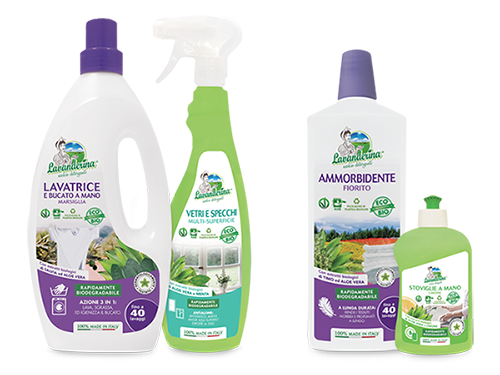 THE GOOD CLEAN
Natural, ecological and biodegradable detergents of vegetable origin with incredible effectiveness
Think of all the detergents that are used daily at home and at work, then think of the same detergents with more natural and less harmful formulas for you and the environment. This is the good cleanliness of Lavanderina: delicate but efficient eco-products that respect the wisdom of traditions.
WE USE SUSTAINABLE RAW MATERIALS
We study the effective yield, quality and eco-sustainability of each raw material we use (both as regards the content of the product and its packaging), because we believe that the future is based on:
"Sustainable development is development that meets the needs of the present without compromising the ability of future generations to meet their own needs".